Competing with big sites in SERPs feels like a big battle to win over. Big brands are preferred. People already know them. People would definitely prefer them over the smaller one you own. Although there are tremendous benefits you can reap being a small agency. Before introducing you with the steps to compete with big brands, we would like to explain advantages of being a big brand and a small one.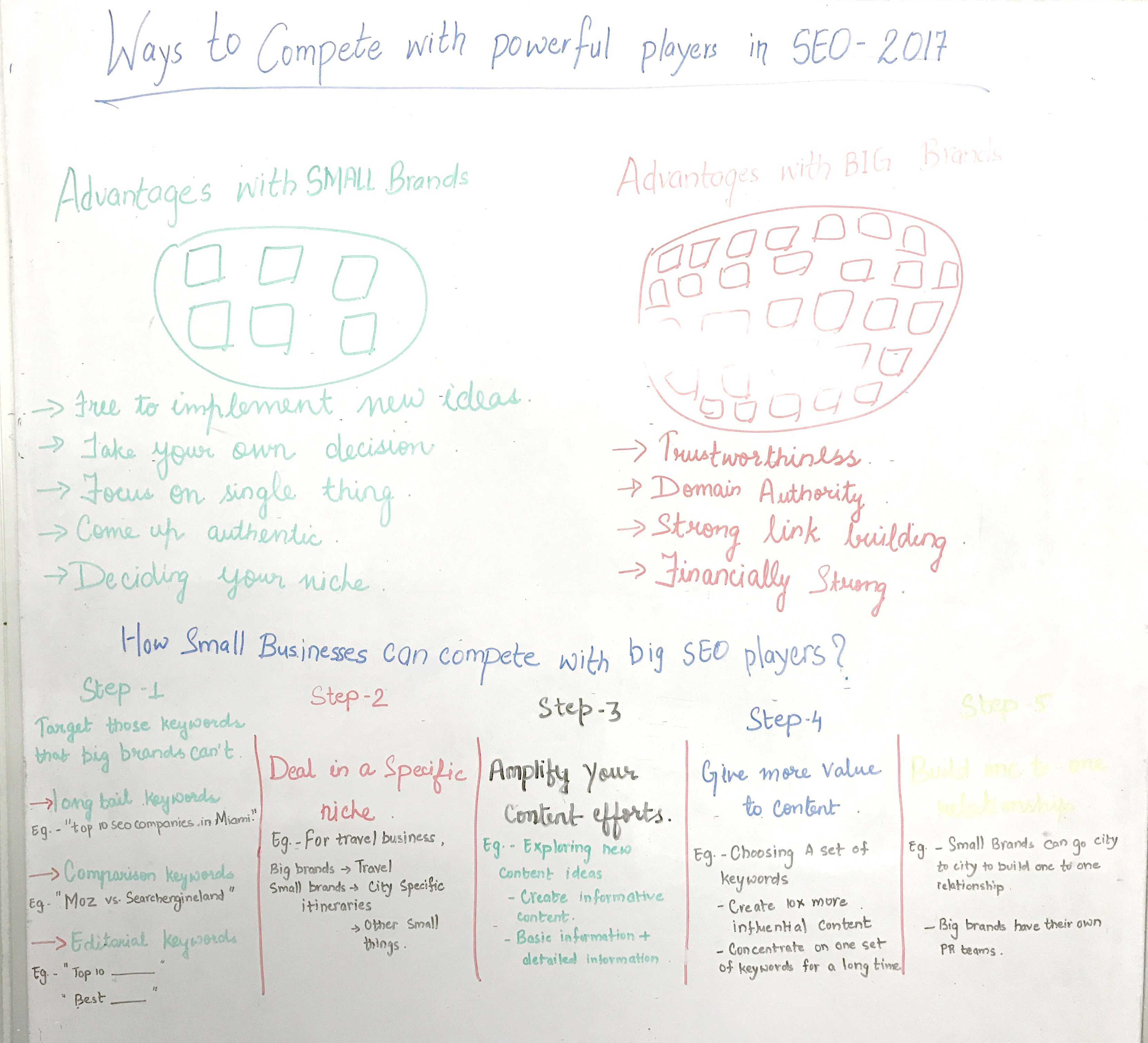 Advantages with big brands-
Trustworthiness- Big brands establish a lot of brand associations through advertising, their size and scale. People always prefer to get products and services from big brands. People are biased towards liking the big brands and buying from them only.

Domain Authority- Big brands have good domain authority. DA is used by search engines to understand the performance of your website. Before calculating your DA, Google takes in account a lot of things. It is a key metric to determine quality of your website.

Link building- Big brands have enormous links coming from good sources. They have diversity of links coming from various renowned sources. If there is a brand new website, it is pretty much tough for the website to have quality link building.

Financially strong- Big brands have a strong budget in comparison to a brand which has just stepped in the market. These brands can spend a lot to support their marketing efforts. These brands are rich enough to carry forward any expensive marketing method. In all, there are no budget constraints.


Advantages with small brands-
There are a lot advantages of small brands over big brands. Being a small brand, you can win over the race by making use of those things that big brands can't use.
Free to implement new ideas- Being a small agency you can experiment and even adopt new strategies. You don't have to run through three layers of management in order to get your plan implemented. However you can consider discussing it with some experts in your team. You can be implement your creative ideas if you are a small firm. You are free to implement new trends coming to the market. For example, here are some reasons why small business need to use Instagram Sponsored Posts in 2017.

Take your own decision- If you have planned something and it is not working you can quickly make a switch on some other methodology. It is not compulsory for you to get approval from multiple layers of management to change your plan. Nimbleness is a great thing that you can get in small firms and not in big brands. There is no boss above you and you are free to take any way at any point of time. This is why mindfulness matters if you want success in your small business.

Focus on single thing- Running a small agency, you can focus on one strategy ignoring other things. It is not necessary for you to work for all the marketing channels. If you know that SEO is the process that can do wonders to your business then you can ignore other marketing channels for a while. You can focus on single thing.

Come up authentic- Big business generally have big brands associations but being a small firm you have the opportunity to build positive and strong associations with smaller audience.

Deciding your niche- Big brands have associations with a number of big organizations but you can't have as you have just stepped in the market. The advantages with you is you can focus exclusively on one thing and become authority in a particular niche.


5 Ways To Compete With Big Brands-
There are many ways with which small businesses are Mastering the Online Marketing Game including the following ones.
Step 1- Target those keywords that big brands can't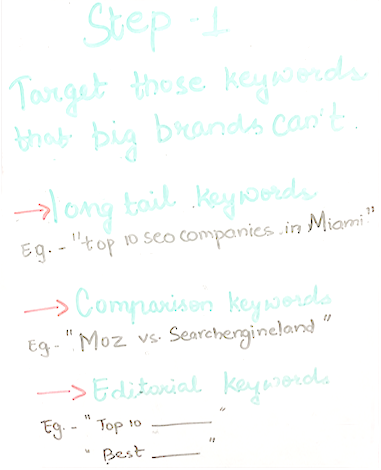 There is a certain set of keywords that big brands just cannot target. The keywords include long tail keywords, comparison keywords and editorial keywords.
Long tail keywords- Big brands generally focus on prime keywords. For example, if your website provide ranks and reviews to best SEO companies in different countries then a renowned reviewing firm would include keyword-"Top 10 SEO companies" whereas a small reviewing and less popular reviewing segment can write- "Top 10 SEO companies in Miami." Being a small brand, you can avail much more benefits of long tail keywords than any big brand can.

Comparison keywords- Big brand would not like to compare themselves with other big brand. However, being a small brand you can compare two big brands like- MakeMyTrip v/s ClearTrip.

Editorial keywords- Big brands have many association and hence it is less likely for them to put a ranking list on their websites or use keywords such as "Top 10" or "Best companies". Being a small one, you can take advantage of these keywords.
Step 2- Deal in a specific niche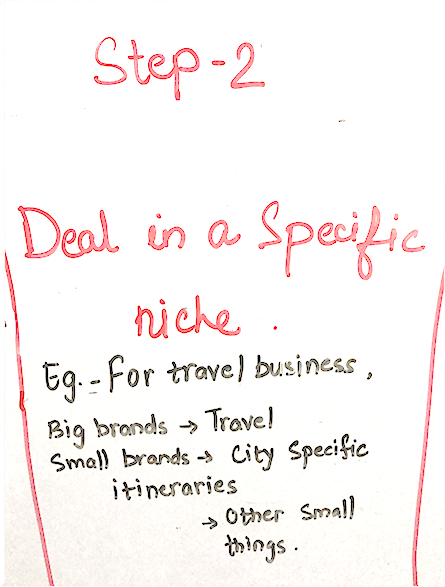 Like we have already mentioned it is less likely for big brands to showcase city specific services or rank them, small brands can take advantages of this. For example, if we talk about some travel service, a big name would only concentrate on Travel whereas small names can concentrate on city specific itineraries and other small things. If you are running a small agency you can simply concentrate on creating your niche.
Step 3- Amplify your content efforts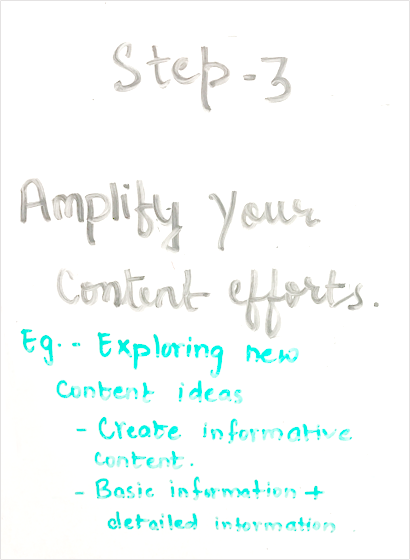 You have definitely got more time to think than a big brand. You can spend you time in exploring new content ideas for your business. You can create informative content for your customers so that they can find you reliable. You can simply amplify your content marketing efforts to overtake any big brand in this particular area. You can go after the content that any big brand offers to their readers.
Also read: 5 ways to achieve your SEO goals in New Year
Step 4- Give more value to content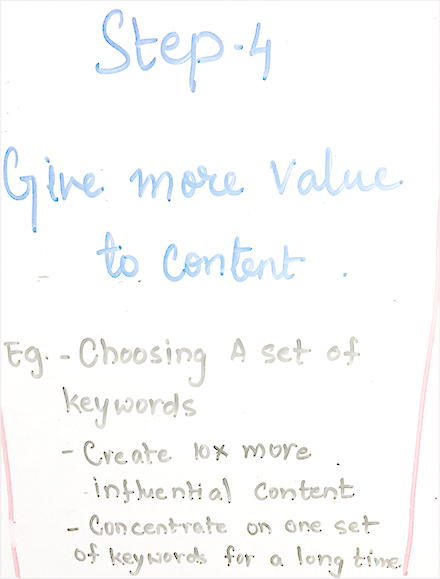 Like we have already mentioned after deciding your niche you can give more value to the content you choose to publish for your website visitors. You can work on a set of keywords. You can create 10X more influential content than you big competitors. If you provide less number of services than your big competitors then you can concentrate on only important keywords. You can put a lot of efforts in working for that set of keywords. Go deeper!
Step 5- Build one to one relationship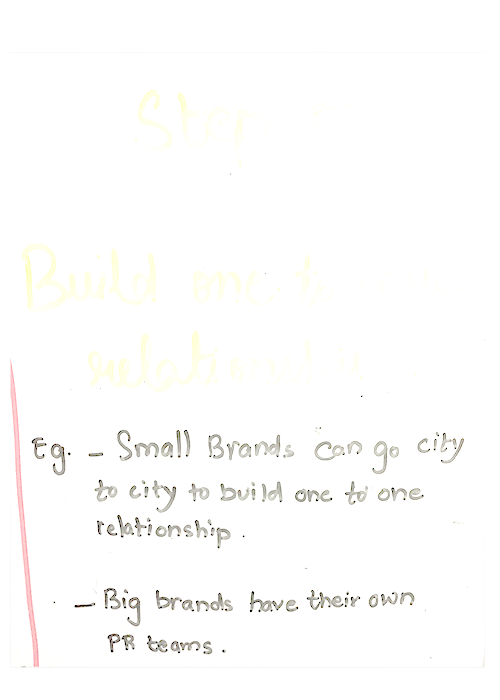 Being a small brand you have got time to build one to one relationship with your clients. You can move city to city to build relationship with your clients. Big brands generally have mass interaction by means of a big PR team. They have a separate team to build relationships whereas you can reach your clients directly. You can go anywhere to build a strong relationship. How is this going to be advantageous for you? Even if you are able to build less number of relationships, all of those would be strong. At least you can remain confirmed about those relationships.
Small businesses or websites can reap a lot of benefits. Include above mentioned points while creating your content marketing strategy in 2017. Also know- Is your content marketing designed for the new customer's journey?. We look forward to hear from you in case you have any queries or more suggestions for small businesses.
** Popular posts **
6 upcoming SEO trends in 2017 that will affect your ranking
3 SEO ranking techniques to master in 2017
Effective Digital Marketing Strategies before 2017