Very often, people are oblivious when it comes to differentiating between a search term and a keyword (or focus key phrase). They wonder if search terms or searched words are the same as keywords and then end up assuming that they are the same. However, there is a tiny difference between both terms. What is that difference? That's what we are going to explore in the article.
But before you understand the difference, it is important to first know what is search term, and what is a keyword, individually. So let's begin.
What Is Search Term
A search term or a search query is a word or phrase (more than one word) that the user enters in the search box of a search engine to search a thing. Examples of search terms can be-
A single word like marketing, or
A phrase like benefits of digital marketing, or
A question like what is digital marketing.
Search engines, for example, Google, translate the search terms to understand what the search intent of a user is and then provide the most appropriate results.
Read More: What Are The Types Of SEO & How Do They Work
What is a Keyword
Keyword also called a focus key phrase, is a search term that users want to rank for with a particular page. Hence, when someone searches for that keyword on the search engines, he finds that page on your website.
What is The Difference Between a Search Term & a Keyword
After looking at the keyword and search term meaning, it is understood that there is a slight difference between the two.
A search term is any word or phrase a user enters in the search box. On the other hand, a keyword is what search engines have already indexed.
Now how are these keywords already indexed? While crawling a page, the search engines extract keywords it has and stores them in their index. Now while ranking, they take the entered search query and break it down into several keywords. They then find the matching pages by searching the keywords into their index.
Sometimes, the search term and keyword show a perfect match. And other times, search engine algorithms try and figure out actual the search intent of the user.
In both scenarios, the best search results are provided by Google. This is because they have excellent ranking algorithms to extract the user's intent, no matter what he enters in the search box.

Why are Search Terms Important for Search Engine Optimization [SEO-Marketing]
It is ideal to know that all the search engine marketing campaigns revolve around search terms and focus key phrases. When a user enters a search query in the search box, the search engine or Google undergoes the following:
Once the user enters the query and clicks on the search button, Google displays possible results that can best satisfy the intent of the user. These results are divided into paid and organic versions.
Paid Results
Paid results, also known as Google Ads are a part of Search Engine Advertising.
They are displayed on the top and bottom of the search engine results page.
Advertisers wanting people to click on their ads will do keyword research or keyword analysis using Google keyword planner. Here, they look for relevant search terms for their products and services.
After the research, they create ads containing target search terms. And then use Google Ads to bid for terms they want their ads to be shown for.
Google Ads (Google's advertising platform) determines which ad should be shown for each term depending on several factors such as user location, the device used, bid, etc.
Organic Results
Organic results are also called SEO Results as they are a result of the Search Engine Optimization process.
They are listed in between the top and bottom paid results.
In SEO, a website and its content are optimized for particular search terms. Thus, when a search query is entered in Google with SEO keywords, this website appears on the first page of organic search results.
Google takes these searched words and breaks them into several keywords. Then it searches them in its index to find pages that best satisfy the search intent of the user.
Google majorly ranks on the basis of the quality and relevance of the content with the search terms.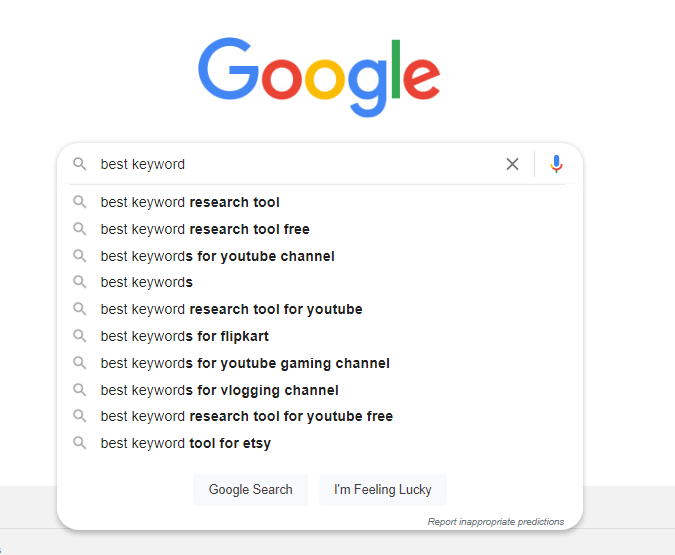 Read More: Tips on How to Improve Your Website Ranking
How To Find Search Terms
Among the 6 billion searches taking place every day on Google, 15% are fresh. This means that 15% of the per-day search terms are not yet used before. Now if the question 'How do I find search terms' comes to your mind then the following tools will help you out. Check them out.
1. Google Search
Google Search gives you instant suggestions when you begin typing a search query. These suggestions are based on the search volume related to that term.
Sections like 'People Also Ask' and 'Related Searches' in the search results let you find out related keywords to your search terms.
2. Google Trends
The free Google Trends tool lets users enter a search term and find out what other people are searching for.
It also gives you information on the most trending, and latest searches and even the most searched word on google, based on year, country, and topic/subject.
3. Google Keyword Tool
The free Google Keyword tool lets you type a search term and get the related keywords.
With this Google keyword research tool, users can see each keyword's monthly search volume, keyword competition, etc.
Read More: SECRETIVE TOOLS OF SEO
Conclusion- What Is Search Term
So, it is clear from the above article that search terms and keywords differ in their meanings. Search engines take the search terms and recognize them with the indexed keywords. They are one of the significant search engine ranking factors used to determine website ranks. Hence, having knowledge about how users search using search terms and how search engines handle them is vital.
10seos is a leading reviewing agency that lists the world's top-rated SEO companies. Besides listing, the experts at 10seos also believe to guide readers and users about the various aspects of SEO through informative blogs. Expand your knowledge about SEO and digital marketing updated with our blogs and reach us in case of any queries.