As most search engine optimization (SEO) experts, Video SEO Companies and many business firms are fighting for better organic visibility, it is getting even more and more difficult than ever to stay at the top of search result of Google. As a most popular proverb says, where there is difficulty, there is always an opportunity. Every business firm wishes to land on the first page of Google search result, although it is not such an easy task to stay at the top of results on Google because competition is rising tremendously and very rapidly. But there are still few strategies which can help you to boost your ranking on Search Engine Result Page (SERP). However, You can take advantage of 'videos' to appear first on search results. Studies have shown that the videos were 53 times more likely to receive an organic first page ranking.
What you need to do is a lot more that merely create, edit and upload a video. You need to follow some very specific steps such as:
Upload video directly to YouTube
While it won't give guarantee to you that it will be appearing on the first-page result of Google, but you can be 100% sure that Google will index your video definitely, if you upload it using YouTube Video SEO Services.
The major drawback of using this technique is, if anybody will click to your video, Google will direct him to YouTube and not to your site. It will be perfectly fine if your main aim is to let people watch your video or banding your product and services. But if you want to drive traffic to your site, this will probably be not successful strategy for you. In that case, you can switch to next and the most latest strategy.
Video SEO
It is a set of mechanism which always tries to make sure that
Google searches your video content

Google indexes your video content effectively

When user enters a specific keyword, Google will show your video content
Here are few more tips to make it work effectively and efficiently:
Video Content
Video SEO Companies have suggested that Google generally rely on the title and meta-data to verify what content your video contains because Google can't truly see that what is inside the video content.
You can use real video footage, but screenshots, PowerPoint presentation or slide shows will work just as well.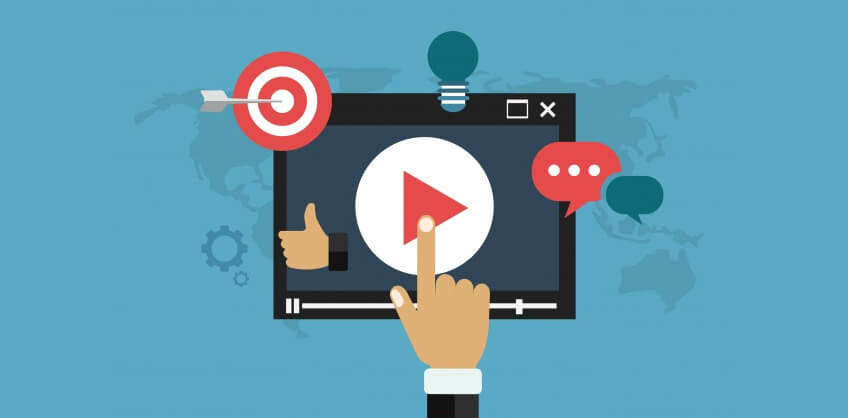 Titles and Descriptions
Google initially matches between the search query and title of your video while ranking. However, Google allows you to give other description as well. Google like it when it founds that the title tag of the page match with the title of the video, and will likely to give a high weighting for results.
Long-tail
Like conventional SEO, you are more likely to see results with videos if you give more specific, long tail search terms. People will get more accurate result if you entered long tail keywords. For example you have provided your video titled as "dog". It is not likely to get first-page result or higher ranking. And if you have titled your video as "German Shepherd Police Dog" there are more chances that people will click it. Since Google cannot decide what the real content of your video is, you can give the same video but with different keyword and title so that it can match more with the potential search terms.
New and Small Don't matter
In conventional SEO, Google consider various factors while ranking a page like number of web pages, number of links, age of that website and many other factors as well. But in this type of SEO, all these aspects do not matter. This means that even new and small sites can also compete with the large and more established. Publishers, who are too small and new, can take advantage of latest SEO technique over traditional SEO.
For future, it is a winning strategy
Since competition for video results rises, it will become even harder than ever to make first-page ranking. But as long as people are using traditional SEO techniques, publishers can use the most of the videos to meet success.
Embed video on your website

Embedding video on your website will help your video to get more views. This is quite important as Google algorithm wants to know how many times a video has been watched.

Embed video on pages with text
Since Google can't understand what your content is all about, you can include text along with your video so that Google will decide what the content actually is. An example of doing is you can see in the image
Final Thoughts on Video SEO
On advantages you have with video SEO while comparing it to traditional SEO, is that it is easier to rank a video SEO that to rank a website on a first page of Google search result or Search Engine Result Page (SERP).
What that mean is if you have optimized for video, you can compete for ranking with well established websites as well.
Google's algorithm to search and index video will obviously get better over time, and of course, the competition for results will get even more fierce. In a more precise manner, the competition will get even tougher than ever. So, if you haven't created a video yet, you'd better hurry up to improve ranking to rank on the first page of search result.