Isn't it the great feeling, whenever you publish a new blog post at your website. Being a perceptive content marketer, after publishing the post, you will be all set to attract readers to your new blog post.
The next step for a content marketer will be like go to the social media profiles and share the post with a link, isn't it? After sharing, you get so many shares, likes or comments at your post and you notice that your post is displaying in the search results while highlighting your primary keyword, but at number 3, page second. Not so impressive, but don't forget its just a start.
You again share the post on social networks, and you notice that your blog is arrived at number 3, not on the second page but on the first page. And yes! We can't describe this feeling!
Today, the importance of social media presence is no longer debated. Now, both the marketers and small business units know the power of sharing on social networks, or we can say they have realized that social media plays an important role for business marketing strategy.
According to the last year report, the business marketers now places extreme value on social media marketing, it can be defined from the following facts about social media.
Over 3 billion individuals are active on the internet.

Approximately 2 billion users have social media profiles.

Nearly 1.5 billion people are working actively on their social media accounts.

Around 47% internet users have a profile on Facebook.

There nearly 4.5 billion likes are daily generated on Facebook.

The +1 tab on Google+ is hit 5 billion times in each day.

On Instagram, 70 million images and videos have been uploaded on the daily basis.
The Game Changer
Many expertise in marketing refers social media as a game changer. It has a significant impact on business and marketing strategies. It comprises the ability to reach out the targeted audience and communicate with them on a personal level. It does not follow the conventional marketing activities as it comes up with innovative but engaging activities to reveal a well-planned and strategic approach.
Further, let's check what are the real impact social media marketing have on SEO structure:
Increment in Traffic
Traffic is the most important and preferable aspect if you own a website. Google loves those websites, which are attracting traffic through social media networks. The links of social networks at your post can turn to be a real asset for the website ranking. The social networks enable the search engines to get notify about the web page popularity, which search engine likes the most, as it clearly describes the active movements of a human being, signifying the genuine nature of the web page.
New Link Building
Link building is considered as one of the key factors, which helps in high rankings. However, most of the marketer easily manipulate this factor through keyword stuffing, putting not-genuine websites links at the site which they want to optimize and placing keywords in the invisible description of a page. All of these undesirable enabled the search engines to consider social media responses. Those days are gone, where you had to work hard to create backlinks at your website, as now the social media and SEO work cooperatively to bring link backs for your website.
Google Treats Facebook and Twitter Posts as a web page
For Google, each tweet on twitter is an individual web page and each post on Facebook, whether it's a status update, videos, links, images plays individual cards in search results game. It is not true, that Google indexes all the pages on the web, but it considers the relevancy of page, with valuable aspects given by social media to evaluate the web page performance. Thus, being active on social networks clearly improvises your online marketing efforts.
Boosted Domain Authority
There is a correlation between SEO structure and social signals. The idea of boosting domain authority through social presence makes sense. The domain authority is directly impacted with social signals, as the more traffic is landing over the web page through social media channels, the more value will be increased for your domain. In plain words, the search engines identify the value of a web page through social network responses.
Develops Your Network with Personalization
If people comments or interacts over to your website, then Facebook and other social channels displays this results to many search engines. As a result, the web page becomes a genuine page for the search engines. Thus, expanding audience on social networks and influence them to communicate on the platform lead to having better experience for you in search engine results page.
Popular Social Media Channels - which one is better?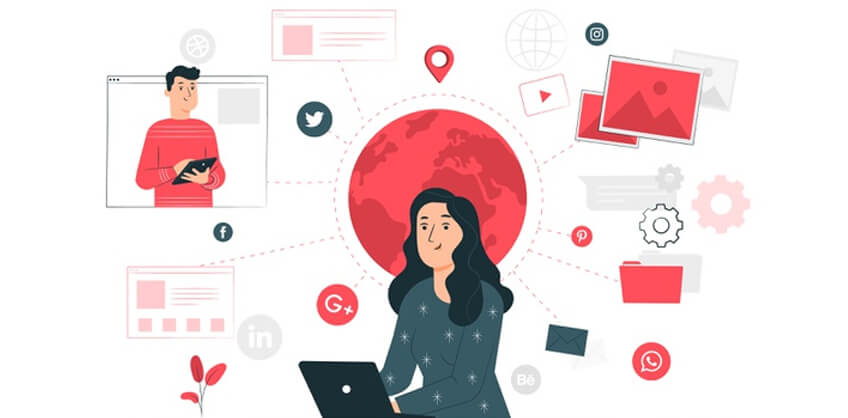 Reaching out to the maximum audiences with greater relevancy, should be the goal of your social media marketing. For that, you need to pay attention to those social channels that help you with your objective. Here we have drawn some tips for you:
#1 - Go through to every social channel and evaluate which will perform best for your website visibility or business. You should consider the products and services you are providing and your targeted audiences. Sharing on social media is free, but your time matters!
#2 - Do not register yourself with every social media network. Evaluate, which one will be beneficial for your website and which can help you to attract the huge amount of audience.
#3 - Create a clear and executable plan, before opting for a social media channel. When people become social on these networks, they lose their focus which will not work out for your website. Thus, creating a plan will make you stay focused.
#4 - In case you are not getting the desirable results, then don't get frustrated, just stick with your social media activities. As these activities indicates the search engines about your active status.
Popular Social Media Channels
Facebook

Google+

Instagram

Pinterest

LinkedIn

Youtube

Twitter

StumbleUpon

Tumblr

Flickr
Wrapping Up - How Social Media help in SEO?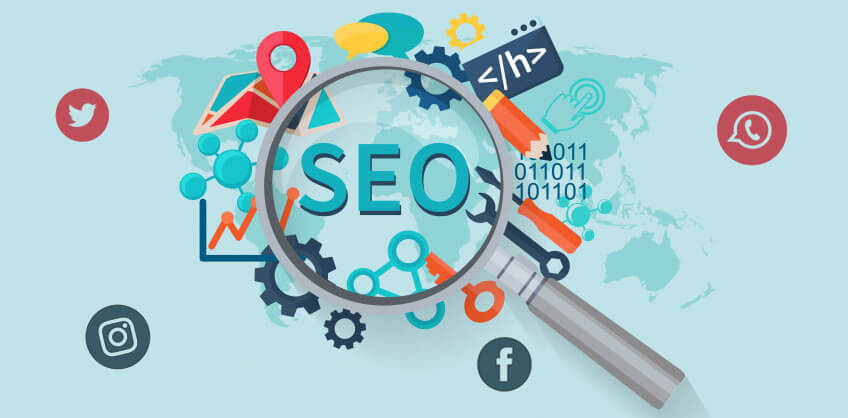 Establishing a strong connection through social signals, will lead your website to:
Get noticed on search engines

Present as a strong brand

Get new and valuable audience

Increase the value of website

Share knowledge

Gain the trust of audiences

Build strong connections
Nowadays, many SEO companies contribute in establishing a strong connection through social networks. Thus, if you are seeking for such services in your city, then Google can help you with this. You can use a phrase or term to search for this agencies. For example, type Denver SEO company, if you are seeking services in Denver or type Dallas SEO company on Google if you want to outsource the services in Dallas.