Top 10 SEO Companies, during a survey found that, "Other than a strong relationship between mobile browsing and local SEOs, customer reviews are incredibly important for the SEO Companies".
Customer reviews work twofold because your prospective customers get a good idea about the success of your company, and search engines love the authentic content it creates. Fortunately, getting started on your business/website reviews is pretty simple.
Google loves looking at customer reviews on any brand's website because the users always like to view first, what the older customer want to say regarding his experience with that particular brand. SEO is all about optimizing your website for Google, but Google should be about optimizing your website for users. A few important things to keep in mind regarding customer reviews and SEO include:
Quantity: The more reviews you get on your website, the more new visitors you will get on your brand's website. Thus, the number of reviews one has on his website is quite important. Google loves to see a huge amount of reviews on your website. This does not mean that there must be either hundreds or thousands of reviews, there must be minimum of ten or twenty reviews on your website.


Ratings: Although it may sound obvious, it's important to remember that the actual ratings you're given in your reviews are good. It's certainly OK to put some less-than-perfect reviews on your page because you don't want to appear untruthful, but do remember that Google looks at the quality as well as the quantity.
Keywords: If you have your product name and/or keywords in the customer reviews, Google bots will surely find your site relevant and start placing it at the top. Keywords are important for SEO in every aspect of your website, so customer reviews are just another place to make it happen.


Competition: Your competitors will have customer reviews on their sites, so they will have an edge when it comes to a local SERP for the reasons discussed above. However, it's important to remember that just because they got started first doesn't mean they're going to finish first. You still have plenty of time to get a strategy together and dominate your competitors.
Mobile : Many mobile users make full use of customer reviews in all cases. Like, if they want to for a dinner, they will search for the restaurants and select the one which has the best reviews. Similarly, some business professional needs to hire a SEO professional, then he will too look upon the reviews ,that has been posted by the customers of that particular brand, and accordingly will take the decision.
Getting customer reviews in the first place as well as increasing your number isn't difficult, but just a bit time consuming. Below are the three tips and tricks to making it happen:
Be quick: Asking someone for a review right away gives you a better chance of success. Try and make a habit of asking customers to leave reviews right after their experience with your business. You can also add incentives, such as discounts on later purchases, in exchange for online reviews.


Be easy: The last thing your customers want is to be asked to review your company through some complicated form or procedure. The best way to ask for reviews is when you have the customer face to face just before they leave your business. If this isn't possible, sending an email with a simple survey or a link to your Facebook or Google page will prompt customers to leave feedback.


Be persistent: If someone doesn't review your company right away, send a follow up email three or four days later asking for feedback on their experience.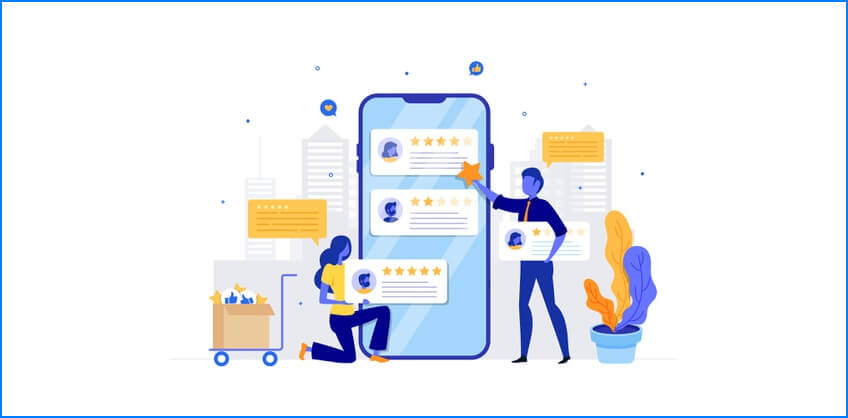 Reviews cannot be taken forcefully. Your services must be so good that the customer himself get attracted to review about the services he taken from you or your brand. If any person is not ready to drop a review about his experience with your services then, think upon it. It may be dangerous for your brand. May be your brand didn't satisfy him or there must be some improvements which are required by your brand. Try to know your customer better and ask them to review for 'what to be improved in your services'. Like this, you will get a perfect review for your brand and you can further improvise it.
More info: seo online jobs