With the changing market trends, it has become important for automotive marketers to use innovative campaign in their marketing strategy to boost their conversion and sale. Automotive marketing is a dynamic industry that can even amaze an experienced marketer.
Here's the list of top 20 automotive blog that can give a insightful and substantial information about automotive marketing.
1. CLICK HERE PUBLISHING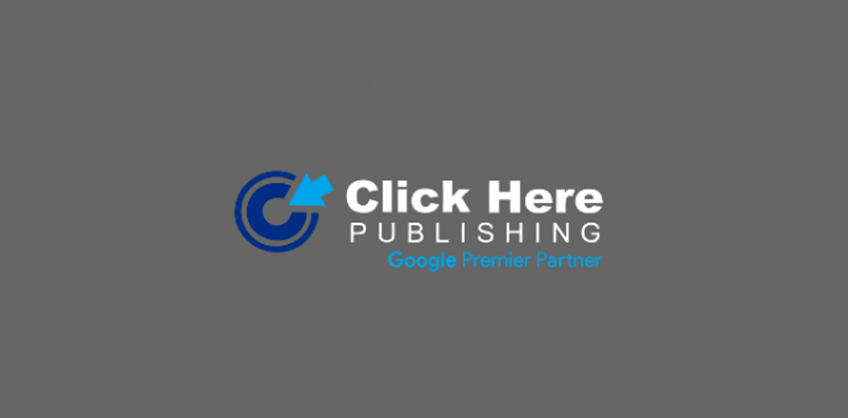 Click here publishing blog is a one stop destination for marketers who are targeting to expand their digital and social media strategy. This blog contain tons of articles that helps to understand new avenue in the automotive marketing field to attract more number of buyers. This blog always come up with new articles in every week which are easy to understand and are interesting to read.
2. DEALER AUTHORITY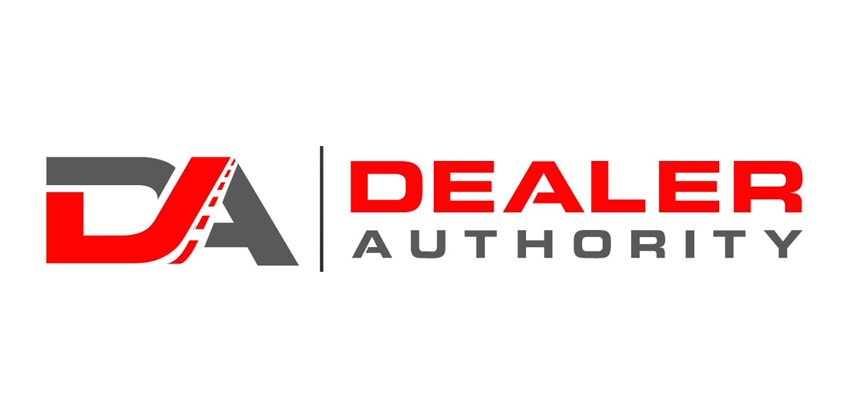 Dealer authority blog focuses on crafting the blog while keeping customers in mind. The topic used in the blog are related to social connection,setting marketing goals and many others. They usually post new articles once in a month.
3. RELEVATE AUTO
The relevant auto blogs are focused on writing about social media and digital marketing for people who wants to understand automotive marketing. The topic range from direct mail marketing to digital marketing and also social media marketing for automotive marketing. The blogs are well written with sufficient details.
4. KRUSE CONTROL
Kruse control blog is a social media driven blog that contain topics such as social media strategy,content strategy and such topics related to the industry. This blog is ideal for those who are targeting social media for getting better conversion and lead for their business.
5. 9CLOUD INBOUND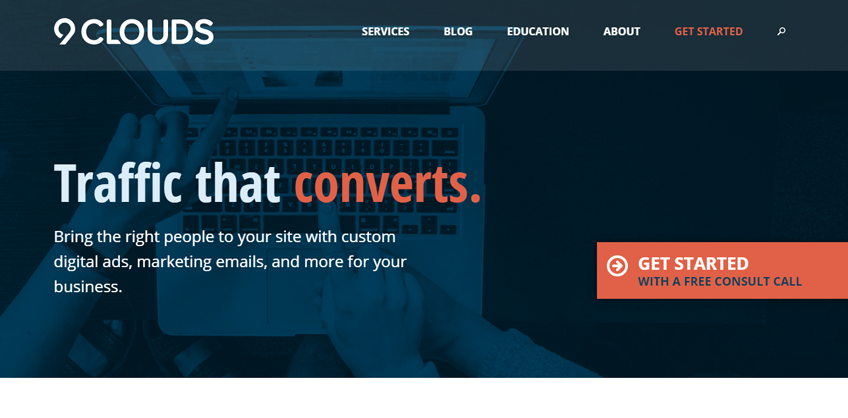 The 9cloud inbound blog offers blogs on topics ranging from SEO ,social media, digital marketing,email marketing etc. This blog is ideal to gain better insight for driving new potential customers and attracting the existing ones.
6.NAKED LIME
Fresh squeezed blog of naked lime concentrates on providing dealer centric automotive marketing tips and education on it. This blog use infographics, case studies, to teach about different social media marketing techniques. This blog is perfect for those who are trying to increase their market share by creating new ideas to generate lead and establish connection with existing customers.
7.MUDD ADVERTISING
The mudd advertising blog is run by the experts who have been advising people on automotive marketing. The blogs are full of valuable information and give insight on basic SEO, digital marketing and other such topics that are crucial for marketing purpose.
8. DEALER SYNERGY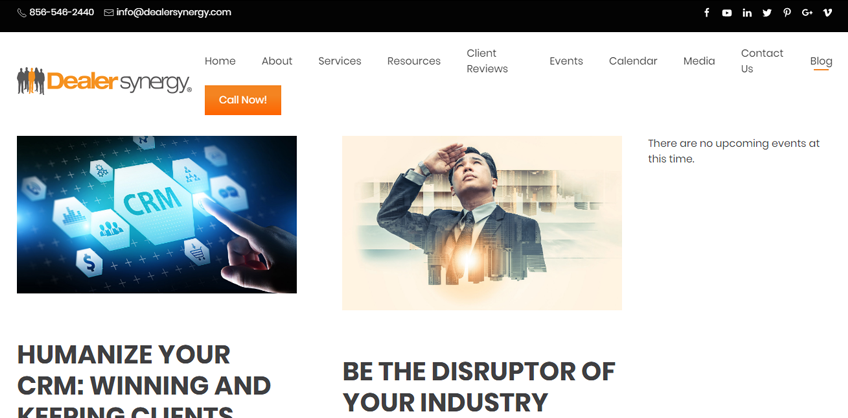 The dealer synergy blog deals with topic of digital marketing that are easy to understand. It deals with topics like organic searches, tips to reach targeted customers etc. This blog is ideal for those who wants better understanding of their site's role in digital marketing.
9. HEDGES AND COMPANY
Hedges and company provide deep insight in automotive marketing. It deals in topics related to automotive SEO, working with Google SERPs and also tips for all units of dealership including parts and services. The blog post contain different statistics, graphs, analytics to make the readers understand the topics easily and make the post interesting also.
10. DOMINION DEALER SOLUTION
Drive dominion blog is a platform based blog that concentrates on social media for automotive marketing. The blog is an ideal choice for people who wants to acquire lead via multiple social media platforms available without investing much time.
11. 3G ENGAGEMENT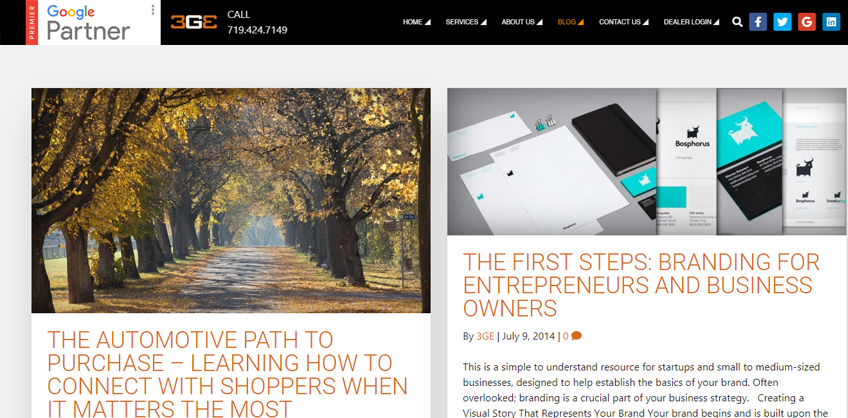 The 3G Engagement blog is promote automotive digital marketing. The blog post deals with topics like how to connect with automobile shoppers, building brand equity,dealing with Google etc. The post are generally very inspirational and is a best choice for those automotive dealer who are still not sure about digital marketing.
12. STING's AUTOMOTIVE
Sting's automotive marketing blog gives an insider look at marketing potentials that can drive automotive industry. The topics in the blog relates to the best SEO practices in automotive industry, understanding about Google analytics etc. This blog is ideal for giving automotive checklist for those who are looking for it. This blog is usually updated in three months but have a substantial amount of blog post library.
13. FULL THROTTLE PERFORMANCE MARKETING PLATFORM
Full throttle performance marketing platform blog is a well crafted blog that deals with topics such as email marketing, search strategy, many how to topics. This blog is best fit for people who are looking forward for new ideas in automotive marketing or renovate the existing ones.
14. DEALER REFRESH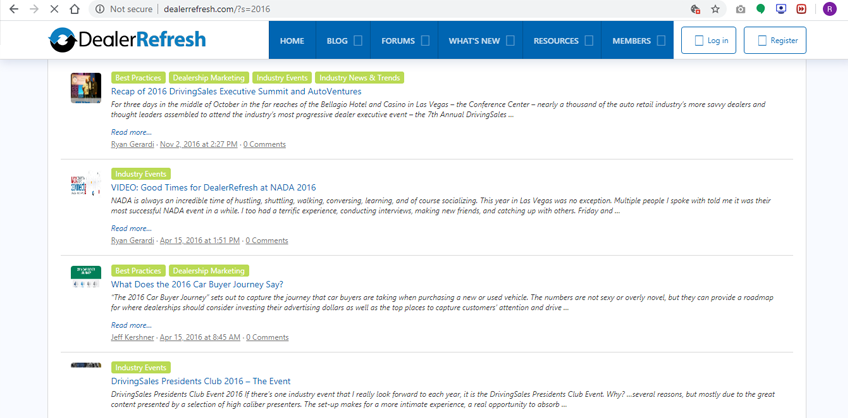 The dealerrefresh blog deals with topics like comparison between cost vs value vs result, lead capture vs ad cost and what all things that customers want from automotive marketing. The blog post are very written long form content that are inclusive of valuable discussion, tips and inspiration over the same.
15.DRIVINGSALES
The driving sales blog post concentrates on the sale process and applying those knowledge in the marketing strategy. The topics of the blog range from consumer generated content, factors behind showroom sale, online selling, lead generation etc.. This blog is ideal for dealer marketer who targets to expand the business with new ideas.
16. AUTOMOTIVE DIGITAL MARKETING
The automotive digital marketing procom provides quality content that focuses on topics such as car dealer, automotive marketer and sale manager. They deliver outstanding content on social media expectation, how to apply social media in dealership marketing and other value marketing insight.
17. AUTO RAPTOR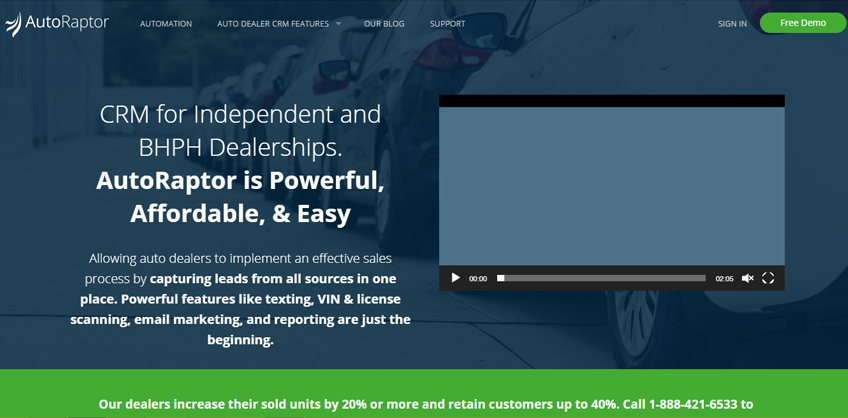 This blog provide information on topics such as lead generation,marketing ,sale and technology. The blogs are updates in every second or third day. The nature of the content is easy understandable and provide valuable insight for getting new ideas in automotive marketing.
18. SHOWROOM LOGIC
This blog is different from other blogs as they concentrate on implementing technology in improving automotive marketing. The topics in the blog ranges from target marketing, increasing market share and digital marketing tips and tricks. This is an ideal blog for people who wants to explore the technology aspect to improve the automotive marketing.
19. FLEXDEALER
Flexdealer is the blog with excellent conversational content that gives a better understanding of the topic. The blog deals with the topic such as failure of online marketing for cars, webpage design, SEO, social marketing for automotive industry, how to handle leads etc.
20. GRAHAM OLESON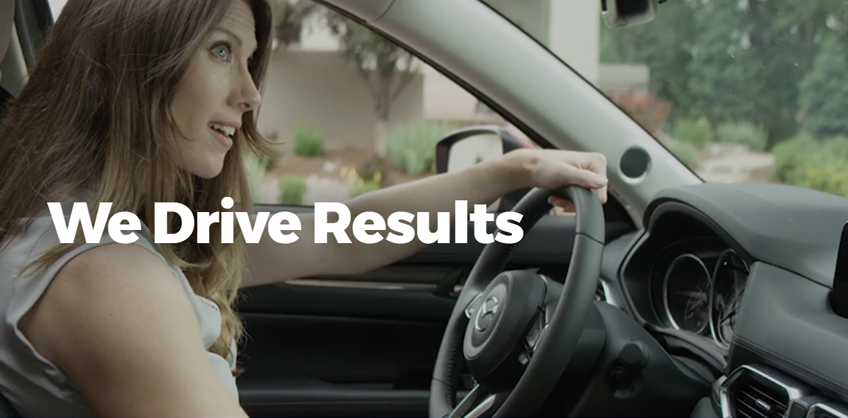 Graham Oleson's automotive marketing blog is full of valuable content that gives a better insight in the industry trends that gives a unique understanding of the ever changing marketing arena. The case studies and posts of the blog are worth to wait for.
Popular posts like this
History of Google Algorithm Updates
5 MAINTENANCE TIPS FOR TECHNICAL SEO CHECKLIST
LIST OF BEST LOW COST SEO SOFTWARES AND TOOLS AVAILABLE ON WEB